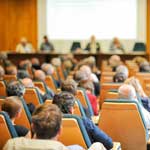 The Geoffrey Binnie Lecture will be presented by Mr Roy Coxon, former BDS chairman.

Guests at the conference will include the President of ICOLD, Mr Cassio Viotti.

Long Term Benefits and Performance of Dams

The 13th British Dams Society (BDS) Conference will be held at the University of Kent, Canterbury between 22-26th June 2004.

BDS invites all from the European and wider family of ICOLD to participate in the conference which will include technical presentations, technical visits and the prestige lecture – the Geoffrey Binnie Lecture, exhibition and a full accompanying persons programme around the historic cathedral city of Canterbury and the surrounding 'Garden of England'.

Technical visits will include visits to water supply reservoirs and flood alleviation schemes including the Thames Barrier.

Conference Topics

Papers have been offered on the following topics:
The benefits and social impacts of dams
Lessons learned from historical visits
Refurbishment and replacement of various elements of dams
Discontinuance and abandonment of dams
The use and performance of synthetic materials in dams
Recent flood events and climate change
Rehabilitation case histories
Research
Risk Assessment
Instrumention
Click here for details of the conference programme.