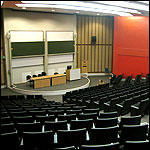 The Geoffrey Binnie Lecture will be presented by Bill Carlyle.



Ensuring Reservoir Safety into the Future

The 15th British Dam Society (BDS) Conference will be held at the University of Warwick between 10th and 13th September 2008.
The BDS invites all from the European and the wider family of ICOLD to participate in the conference which will include technical presentations, technical visits and the prestige Geoffrey Binnie lecture, as well as exhibition and a full accompanying persons programme in and around the Warwick area.

Conference Topics
Papers have been invited under the following themes:
Lessons learnt from failures and other incidents.
Remedial works to extend the asset lives of reservoirs.
Replacement and repair of gates, pipes and valves.
Dam break analysis and emergency planning.
The use of risk assessment techniques.
Seismic investigation and analysis.
Discontinuance and abandonment of dams.
The use and performance of new materials in dam design and remediation.
The use of novel construction techniques.
Making dams pay into the future.
Recent flood events and effects of climate change.
Flood alleviation reservoirs.
Rehabilitation case histories.
Problems at small high hazard reservoirs.
Research into dam design, construction and performance.

Instrume

ntation, monitoring and inspection.
Planning for new construction.
Environmental impacts of reservoirs.
Click here for details of the conference programme.